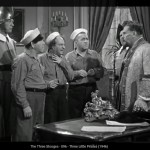 President Obama's latest EPA plans give America only bad choices which all will cause electric bills to skyrocket.
While claiming states will have "fexibility" to reduce carbon dioxide, the limited options are all bad. It's like a classic Three Stooges routine: The Stooges are given a choice either of being burned at the stake or beheaded. Curly chooses the fire. "After all," he says, "a hot steak is better than a cold chop."
The Environmental Protection Agency isn't offering anything better. They are not targeting something tangible, dirty or visible like soot or carbon particles, which is the purpose of the Clean Air Act. Instead, they want to reduce carbon dioxide, which is not a pollutant. CO2 is invisible whether it's coming out of a smokestack, exhaled from your lungs, or released by plants at night. Obama's justification is all about supposed "global warming" and "climate change," not about pollution.
Read more:  Obama to claim credit for economy-killing EPA plan
Watch the Stooges' "hot steak, cold chop" bit below: